HDTV/DTV viewing and recording software for Windows and ATSC/Clear QAM tuner cards
Watch, pause, record, timeshift, and replay live over the air or clear QAM TV with your PC and tuner card.

Free PSIP fed program guide. Program guide data is collected from PSIP information sent along with the TV channels video and audio from the broadcaster.

Records Digital/HDTV television shows in dvr-ms format.

Silent background recording. No window needs to be open while a program is being recorded.

Timer based recording with one shot, daily and weekly timers to record your favorite TV shows.

Supports wake from sleep for timer recordings.

On screen display of channel number, channel name, channel resolution, program name, date, time, signal quality, program start and end time, program rating, volume and program description.

Can run full-screen or in a window.
Includes plug-in for ATI Remote Wonder Plus remote controls.

Very small program size doesn't use up your disk space.

Clear QAM TV tuner support in Windows Vista, WIndows 7 and Windows 8.

Multiple tuner support allows you to record multiple programs at once.

Supports PID Filtering, to reduce network traffic, with HDHomeRun.
Easy HDTV DVR (x64), running on Windows 7 (x64), showing on screen display and control panel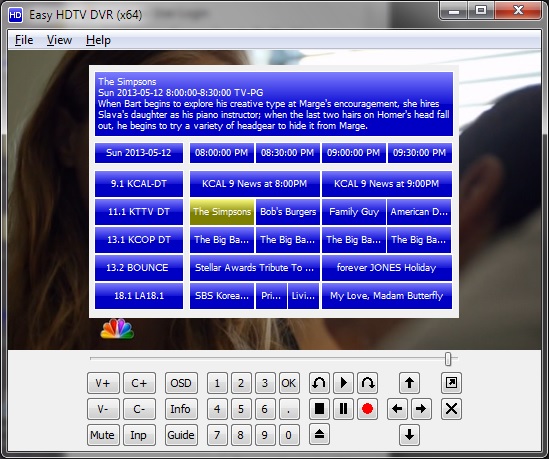 Easy HDTV DVR Electronic Program Guide
System requirements:
Easy HDTV DVR requires a PC with 1.5 GHz or faster Intel or AMD processor, internal PCI or PCIE ATSC HDTV tuner card or external USB or eithernet ATSC HDTV tuner, a hardware accelerated graphics card, MPEG-2 video and AC3 audio decoders, Windows XP, Windows Vista, Windows 7 or Windows 8 operating system, DirectX 9.0c or higher and 20 GB of free hard disk space.
Download Easy HDTV DVR with 30 day trial now!

For 32-bit or 64-bit Windows versions




For 64-bit Windows versions

See Quick Start Guide for usage instructions.
Easy HDTV DVR software keys are available by electronic purchase. Download and install Easy HDTV DVR, you will be able to use the program free for a 30 day trial period, after that you can purchase a software key using the "Add to Cart" button below, and you will be sent a software key by e-mail that allows use of Easy HDTV DVR past the 30 day trial period.
This software requires a hardware tuner and MPEG-2 video and AC3 audio decoders which must be purchased seperately. Except for a nag screen that appears during the trial period, Easy HDTV DVR operates exactly the same during the trial period as it does when used with a software key.
| | | | |
| --- | --- | --- | --- |
| Description: | Price: | Shipping: | |
| Easy HDTV DVR Software Key | $24.00 | N/A | |