HDTV/DTV viewing software for Windows and ATSC digital TV tuner cards
On screen display of channel number, channel name, channel resolution, program name, date, time, signal quality, program start and end time, program rating, volume and program description.
Works with most MPEG-2 video and AC3 audio decoders and choice of decoder is user selectable.
Can run full-screen or in a window.
Works with most ATSC HDTV PCI tuner cards and external USB tuners including ATI HDTV Wonder, ATI TV Wonder 650, Dvico Fusion, HDHomeRun, AutumnWave OnAir GT and AverMedia AverTVHD A180.
Includes plug-in for ATI Remote Wonder Plus remote controls.
Supports unscrambled digital cable, also known as unencrypted QAM or clear QAM, in Windows Vista, Windows 7 and Windows 8 with Clear QAM capable tuners.
Free Electronic Program Guide from broadcasters PSIP data.


Easy HDTV showing on screen display and control panel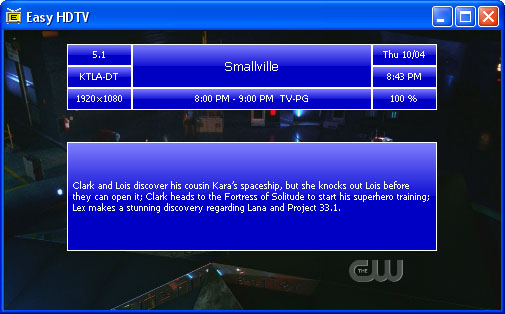 Easy HDTV showing on screen display and program information
System requirements:
Easy HDTV requires a PC with 1.2 GHz or faster Intel or AMD processor, internal PCI ATSC HDTV tuner card or external USB ATSC HDTV tuner, a hardware accelerated graphics card, MPEG-2 video and AC3 audio decoders, Windows 2000, Windows XP, Windows Vista or Windows 7 operating system, DirectX 9.0c or higher and 10 MB of free hard disk space.
Download Easy HDTV with 30 day trial now.
Easy HDTV For 32-bit Windows versions
Easy HDTV x64 For 64-bit Windows versions

See Quick Start Guide for usage instructions.
Easy HDTV is available by electronic purchase. Download and install Easy HDTV, you will be able to use the program free for 30 days, after that you can purchase a software key using the "Add to Cart" button below, and you will be sent a software key by e-mail that allows use of Easy HDTV past the 30 day trial period.
This software requires a hardware tuner, which must be purchased seperately.
| | | | |
| --- | --- | --- | --- |
| Description: | Price: | Shipping: | |
| Easy HDTV Software Key | $14.00 | N/A | |